In our marriage, we've moved 3 times
…
so far. But, we're about to move for the fourth time. Our first move was across the city we lived in, our second was to another state and our third was just a few miles down the road. This 4th move will also be across town and can I just tell you
…
I would rather move to another state than across town?!
However, having moved several times in our marriage now and in and out of the dorms at college 3 times, I have learned a few things. And, I'd like to share them with you.
Now, I know people who have moved for a new ministry or a job and have a company pack your house. You can still apply these tips. Just make your requests known to the movers!!
5 Tips to quickly and efficiently pack your home for moving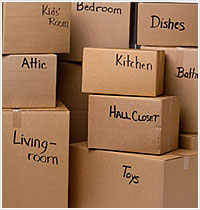 1. Pack according to rooms. Pack your current home according to the rooms in your new home. For example: Kids toys, which may be in their current rooms and/or living room, but will be in a playroom at the new house or you may be moving from one bathroom to two, three to four bedrooms, etc.
2. Do not over-pack boxes. Books get heavy QUICK!! So, I suggest packing some books with some lighter-weight items, such as games or
DVD
's, stuffed animals, etc. while still keeping items sorted by room. But, if you need to pack a box full of books, this site gives some GREAT tips! You need to be able to carry the boxes yourself-even if just a short distance.
3. A tip I heard recently and plan to implement this time around is to color-code your boxes according to room. So, not only are you packing according to room, you're going to put a colored piece of duct tape on the box. If you don't want to buy rolls of duct tape simply for this process, you can purchase a kit from
this site
. It has all the labels you'll need to use already color coded and ready to go!!
This site
gives a good tip or two on how to color-code your rooms and how to place the tape on the boxes.
4. Whether you're moving across town or across the country, keep your clothes on their hangers. Put up a hanging rack in the truck to hang them on if you're just going across town. Or use these handy-dandy
Wardrobe Moving Boxes
(pictured above). Aren't they great?! This will save you (and those helping you) a lot of time and arm aches at the new house!
5. If you have enough warning that you're moving, start packing EARLY!!!! Start in one room and pack everything that is not currently being used. Winter clothes, your husband's outrageous book collection, extra dishes, etc.
I would also suggest you purge as you go. That's what we've not done in the past, but are doing this time. We simply have too much stuff without a home and I can hardly stand it! I have already started with the kids' toys. They have been purged and are ready to pack. I've also gone through the kids' clothes I have in storage. So, I know what is now stored away is okay to be stored away again.
I have a plan this time and I just hope it all works out that way! HA! When has that comment not gotten someone in trouble! No, but seriously
…
I will have each room color coded on a blueprint/floorplan and each box will be labeled accordingly.
I also plan to have furniture measured out and placed on the paper floorplan so it's easy for anyone to follow. Since we have 4 kiddos, it's likely I won't be at the new house for every part of the move and I want it to go as smoothly as possible for everyone helping us out! Not to mention, the stress relief of entering a house where things are already in their correct place! That's priceless to me! It may require more up-front planning, but it will be so worth it in the long run!
For those of you who've moved a lot, what tips do you have? Feel free to share in the comments or link up to your own post about moving!
Linking up to these wonderful parties: